Commercial

Services
For any business, choosing the right pest control partner is a crucial decision; you need a company that you can rely on and work with, without having to micro-manage. Let us take care of your pests while you take care of your business.
Commercial Food Producers/Distributors
The production and distribution of food is a highly competitive industry. Whether you are a manufacturer, commercial kitchen or restaurant, it is completely unacceptable to have any level of pest infestation. In food related industries reputation is everything, and cleanliness plays a key part in the stringent quality and hygiene standards that need to be met to pass audits and keep customers coming back. Cockroaches, flies and rodents can be detrimental to a company's repeat business, which is why at Al Tajer Pest Control we tailor-make a proactive, integrated pest management program for your specific needs, dependant upon your surrounding environment, product, working hours and budget.
Residential / Commercial Properties
Whether you are a facility manger or independent property owner, the environment in which your tenants reside is crucial to the success of your business and has a direct impact on the number of complaints that you receive; remember, a happy tenant is a paying tenant! Pests can cause a number of problems to you and your tenants, disruption to offices can reduce productivity, while damage to the building, gnawing of electrical wires and spread of disease can cause serious commercial and financial damage, as well as loss of good will. With all properties, but especially those in the UAE because of the amount of construction here, a number of key factors play a major role in the scale of infestation in a property. These include its location, surrounding environment, age, size, the movement of people and goods, and whether food is handled onsite. All of this means that a thorough evaluation of the property is required in order to customize an Integrated Pest Management program for your specific needs.
Choosing Al Tajer Offers a number of benefits to your business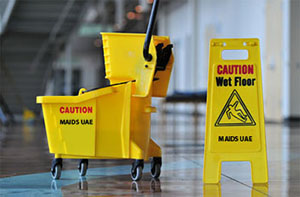 Experience - Established in the UAE in 2004, we know the history and diversity of pests in the Emirates and understand what control solutions work best to deliver fast and effective results.
Customer Care - AL TAJER has a dedicated, friendly and helpful Customer Care Call Centre to attend to your service visits, technical concerns, requests for an emergency service, or simply to ensure you get to speak to the right person for your needs.
Always Available - We understand that commercial properties have downtimes different to a typical working week. As such, our teams are available 24/7 to accommodate your needs and ensure you are ready to start at the beginning of the next working day.
Dedicated Service Team - Whether it is the dedicated Account Manager who originally surveyed your property, or the Technical Team who physically carry out the work, we ensure that you have a committed, trained and trusted team looking after you and your property.